Introduction: Household air purifiers play a vital role in improving indoor air quality, and filter efficiency is a key factor to consider when selecting the right air purifier. Among various filter efficiency grades, H13-grade filters have gained attention for their 99.97% efficiency. This article aims to explore why 99.97% efficiency is an ideal balance point for household air purifiers.
High Filtration Efficiency of H13-grade Filters: H13-grade filters are renowned for their high filtration efficiency. They effectively capture particles as small as 0.3 micrometers, including bacteria, viruses, pollen, dust, and pet dander. This high filtration efficiency makes H13-grade filters an important tool for efficient air purification.
Balancing High Efficiency with Air Circulation: While higher filter efficiency may seem desirable, excessively high efficiency can create issues. Filters with extremely high efficiency can increase air resistance, which reduces the Clean Air Delivery Rate (CADR) and hinders air circulation in the air purifier. This can result in slower air purification and potentially increased noise and energy consumption. Therefore, selecting a moderately efficient filter allows for both effective filtration and adequate air circulation.
99.97% Efficiency as an Ideal Balance Point: A 99.97% filter efficiency serves as an ideal balance point for household air purifiers, offering multiple advantages. This efficiency level efficiently removes fine particles from indoor air while maintaining relatively good air circulation. In practical terms, it effectively eliminates pollutants such as dust, pollen, bacteria, and viruses, providing a clean and healthy indoor environment.
Considering Other Factors: When choosing an air purifier, it is important to consider factors beyond filter efficiency. Factors such as the CADR of the air purifier, room size compatibility, noise levels, and personal needs and health conditions should be taken into account. By considering these factors comprehensively, one can select the most suitable air purifier to achieve better purification results and a comfortable user experience.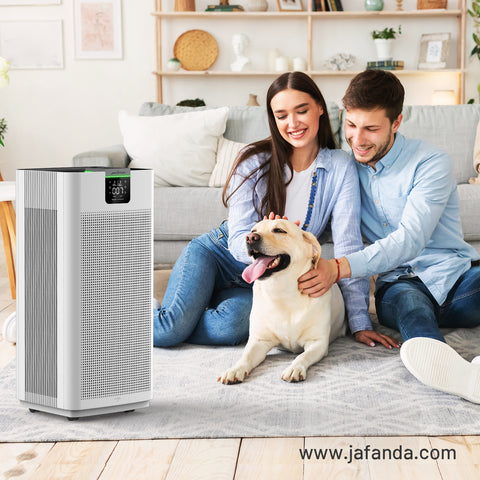 Conclusion: For household air purifiers, selecting H13-grade filter material with 99.97% efficiency is an ideal balance point. This efficiency effectively removes fine particles while maintaining good air circulation, promoting a clean and healthy indoor environment. However, it is essential to consider other factors when choosing an air purifier to ensure it meets individual needs and health conditions.